english version below >>>>>
starsky . . . xradz . . . niemand . . .
mag. julia zdarsky
absolventin der waldorf schule | wien
1996  diplom der universität für angewandte kunst | klasse caramelle / terzic | wien
auszeichnung und anerkennungspreis des bundesministeriums für kunst
visualistin seit 1991
2018 MARIANNE.VON.WILLEMER.2018 Preis für digitale Medien >>> Laudatio
2019 gabriele heidecker preis >>> Rede
starsky überschreitet ungeniert die grenzen zwischen sub-, pop- und hochkultur. egal ob bewegte lichtbild-installationen, bühnenprojektionen, imposante live-visuals oder gigantische großbild-projektionen : die arbeiten von starsky sind an räumlicher wirkung und inhalt kaum zu übertreffen. nichts, was nicht von ihr in farbe, form, wort und licht getaucht werden könnte : architektur, struktur, environment, public spaces !
starsky arbeitet mit sprache, phrasen, grafik, interaktion, bewegten bildern oder film. von plakativ bis subtil ist alles, meist sogar in ein und derselben arbeit zu finden. die projektionsdimensionen von starsky heben raumprojektionen und projektionsinstallationen auf eine inhaltliche ebene, die zu einem gesamtkunstwerk aus bild, sprache, kommunikation und raum verschmelzen und als plötzliche erleuchtungen von kurzer dauer im emotionalen gedächtnis der betrachterIn erhalten bleiben. visualisierte gefühle – flüchtig, aber unvergesslich.
starsky arbeitete bisher mit den medien : projektion, photographie, film, video, installation, ton, musik, bild, objekt, text, activism, graphik, theater, performance, interaktive systeme, steuerungen, computer, kommunikation, netz und einigen noch namenlosen . . .
starsky . . . xradz . . . niemand . . .
starsky is a pioneer of projection art, her diverse work as a "visualistin" extends from imposing large-format projections, comprehensive light-image installations, poly media live performances up to text interventions in urban space. In the process image, language, communication and environment merge into a "gesamtkunstwerk". sudden enlightenments of limited duration, visualized emotion – volatile, but unforgettable. starsky blithely ignores the boundaries of sub, pop and high culture. nothing that she can not immerse in color, form, word, and light : architecture, structure, environment, public space!
downloads . . .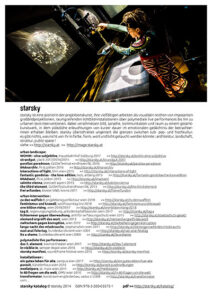 >> starsky biographie und referenzen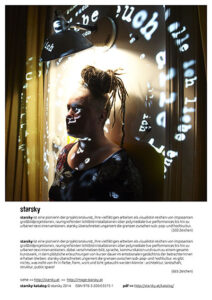 >> starsky biographie :: 300 und 665 zeichen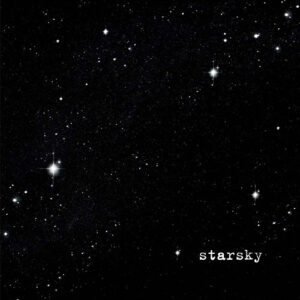 starsky katalog © starsky 2014 :: ISBN 978-3-200-03575-1 :: pdf >> http://starsky.at/katalog/
presse . . .
Augsburger Allgemeine
Über die Grenzen :: Guerilla Stadtrundgang mit starsky
>> Schmerzliche Erinnerungen huschen ueber die Haeuserwaende
Über die Grenzen :: Ausstellungseröffnung
>> Kindertransporte, die letzte Chance auf Rettung
radio fro :: Kultur und Bildung spezial :: Sendungsgestaltung: Erich Klinger
starsky erhält den Gabriele Heidecker Preis
>> https://www.fro.at/gabriele-heidecker-preise-2019/
woman online
Bericht von Theresa Aigner über starsky und das Projekt 100 jahre in 100 minuten
>> https://www.woman.at/a/starsky-stadt-leinwand
radio fro :: X_XY (Un)gelöst und (Un)erhört!
im Portrait "starsky" – Projektionskünstlerin
Eine Sendung von HELGA SCHAGER
ein Porträt aus der Reihe "Listen To The Female Artists" #35
>> https://www.fro.at/im-portraet-starsky-projektionskuenstlerin/
radio fro
Marianne.von.Willemer-Preis an starsky
>> https://www.fro.at/marianne-von-willemer-preis-an-kuenstlerin-starsky/
radio fro
niemand mischt sich ein
>> https://www.fro.at/niemand-mischt-sich-ein/
artmagazine
>> http://www.artmagazine.cc/content104596.html
VmiA :: visuals made in austria
>> Interview mit starsky von Olivia Macho